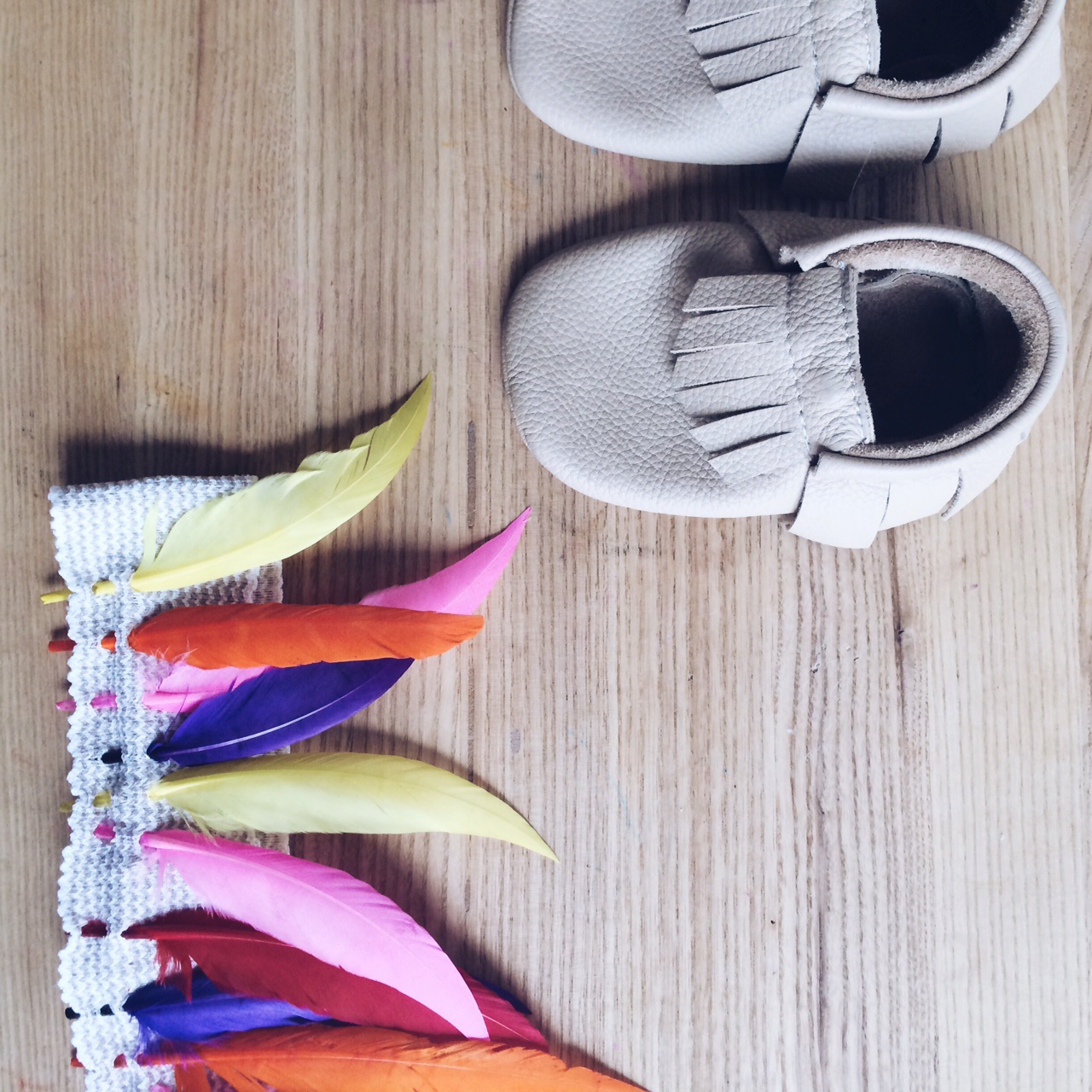 It's spring break, and my kids and I had planned to spend the whole week exploring the city and nearby parks. But then my toddler broke her leg, and after spending two days visiting doctors and hospitals we are now stuck with doing indoor activities. My eldest child loves coming up with fun theme days, and today she chose Native Americans as our theme. We started out by making feather headbands and pearl bracelets on a small loom. We then eat pancakes and corn and finished the day of watching Pocahontas.
I love this pancake recipe. They're not too sweet, and taste delicious served with fruit or maple syrup.
225 grams plain flour 
1 tablespoon baking powder 
1 small pinch of salt 
1 tablespoon sugar
2 eggs 
30 grams of melted butter 
330 ml milk 
butter for frying
Mix up all the ingredients, stir well and bake the pancakes one by one on a medium warm pan and serve the warm with your choice of topping.
//
Vi holder påskeferie, min ældste datter har fri fra skole og vores planer var egentlig at vi skulle bruge hele ugen på at gå på opdagelse i byen og udforske et par nærliggende parker og Brooklyn botaniske have. Men så gik min yngste datter hen, og brækkede benet og efter vi brugte de to første af ugens dage hos diverse læger og på hospitalet, er nu vi tvunget til at bruge det meste af vores tid på diverse indendørs aktiviteter. Og for at alle dage ikke skal blive ens, har vi besluttet at gøre nogle af dem til temadage, og Eleanor har besluttet at idag skal være indianer dag.
Vi startede med at lave fjer hårbånd og vævede perlearmbånd. Så stod den på tykke pandekager og tilsidst sluttede vi af med at se Pocahontas (der i år er 20 år gammel ).
Jeg plejer at bruge denne opskrift når jeg laver pandekager. De er ikke for søde og kan derfor både spises med frugt og ahorn syrup.
225 gram mel 
1 spiseskefuld bagepulver
1 knivspids salt 
1 spiseskefuld sukker
2 æg
30 gram smeltet smør
330 ml mælk
smør til at stege i
Rør alle ingredienser godt sammen, og bag de små, tykke pandekager på en pande over medium varme. Vend pandekagen når overfladen begynder at boble godt, og hold godt øje med, at de ikke tager for meget farve. Er du til et lille tvist kan du komme friske eller frosne bær i dejen. Idag brugte vi blåbær.
Server dem varme med de foretrukne topping.