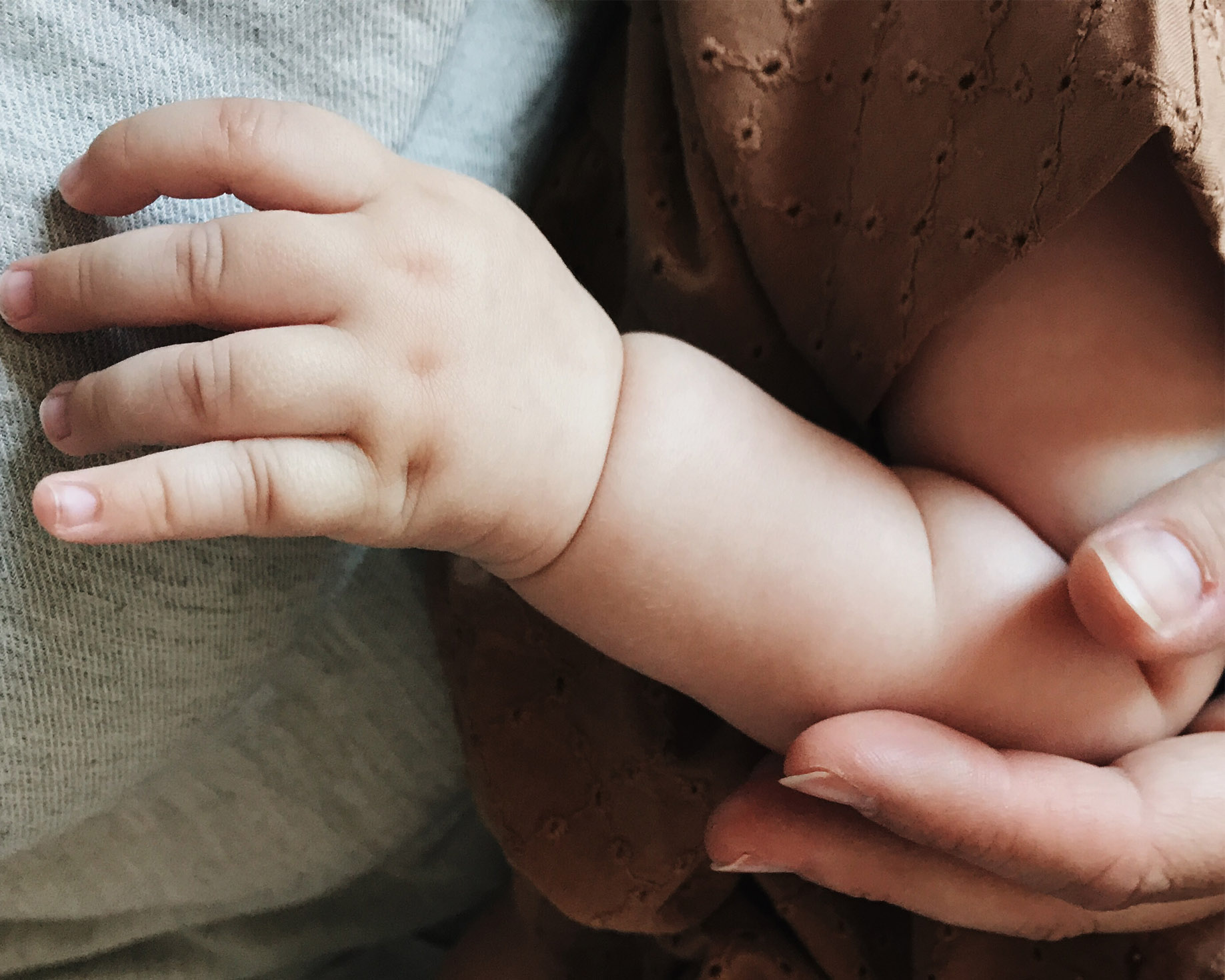 It's still dark in the bedroom, but right next to me I feel a little body standing up straight in our bed. Within the last week my tiny baby has turned one, and realized she can stand on her own without holding on to anything. She's constantly finding new ways to challenge herself and I'm constantly being reminded that she's not so little anymore. That my last baby is no longer tiny and that within a very short amount of time she'll be walking and talking and choosing to hang with her older sisters instead of with me. Turning one is a big deal. At least in my mind it is. No more counting her age in months or being fed only milk and porridge. We're at an eating-everyting-myself-with-my-fingers stage and I sometimes wonder if independence comes earlier the more children you have.
It's exactly one year ago today that we came home from the hospital. My tiny Evelyn and I. After five days of treatments for both of us, a lot of tears and many more hugs and smiles. Continuous discussions with nurses who didn't understand my Scandinavian way of doing things, nights where I secretly held my baby in my arms instead of putting her in the little plastic crib as rules prescribed. The physical pain of deprivation when she had to spend 30 hours in a small light box in a room 20 meters away from me, the first meeting between my newborn and her two older sisters, how my mind managed to ignore the incredible pain I was in every time she was on my chest and how nervous I was when I finally got to bring her home from the hospital even though I had done it twice before. I guess some things you never get used to, even as a mother.
Isn't it funny how the mind works? How we forget so many of the unpleasant things we go through and manage to keep only the good ones stored inside of us? How our body seems to forget what physical pain really feels like, and just leaves us with a hazy feeling and a story to tell?
My third birth was the most challenging, painful and difficult of them all, and yet I wish, I could do it all over again. I would be happy to go through all the pain, the uncertainty, the tears and the frustration just to be able to re-live those first few minutes of meeting my newborn child. Motherhood is for full of amazing experiences, of milestones and love and happiness. But to me, that first moment of seeing and feeling your child right after giving birth is something I would do anything to be able to experience another hundred times.