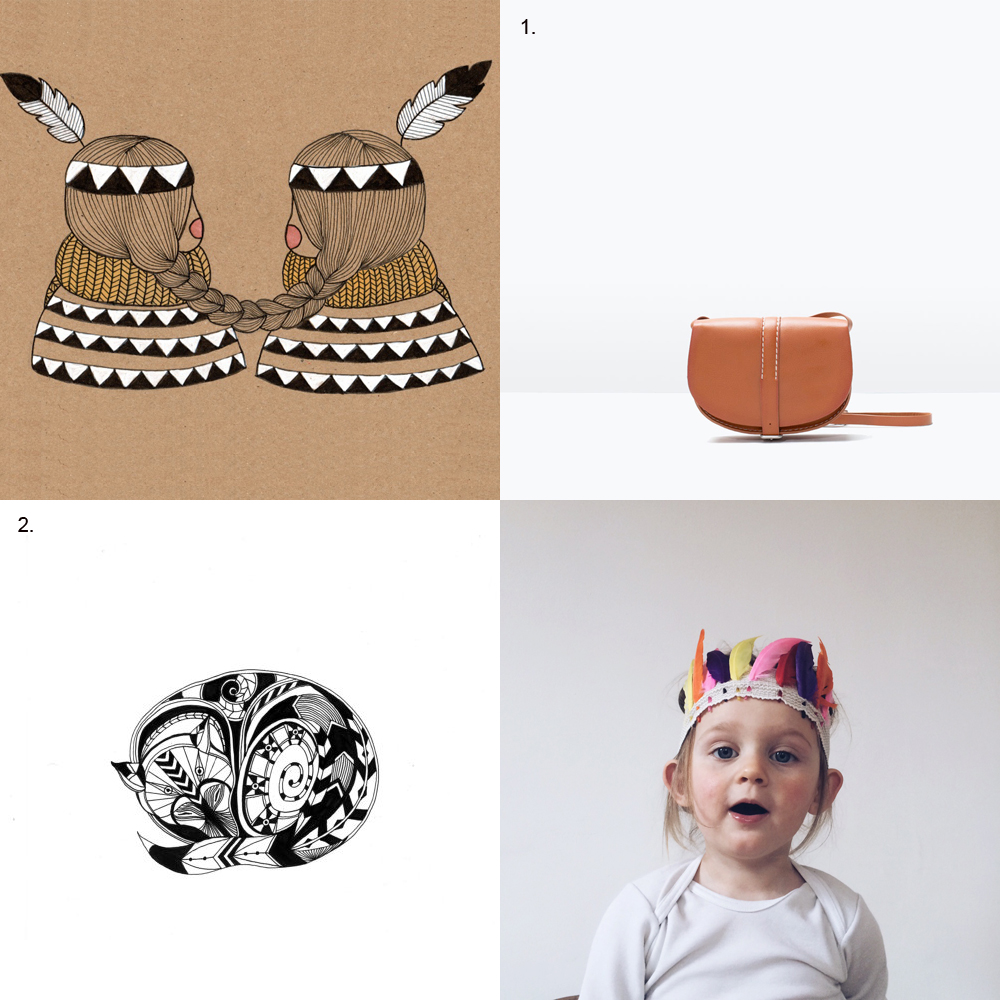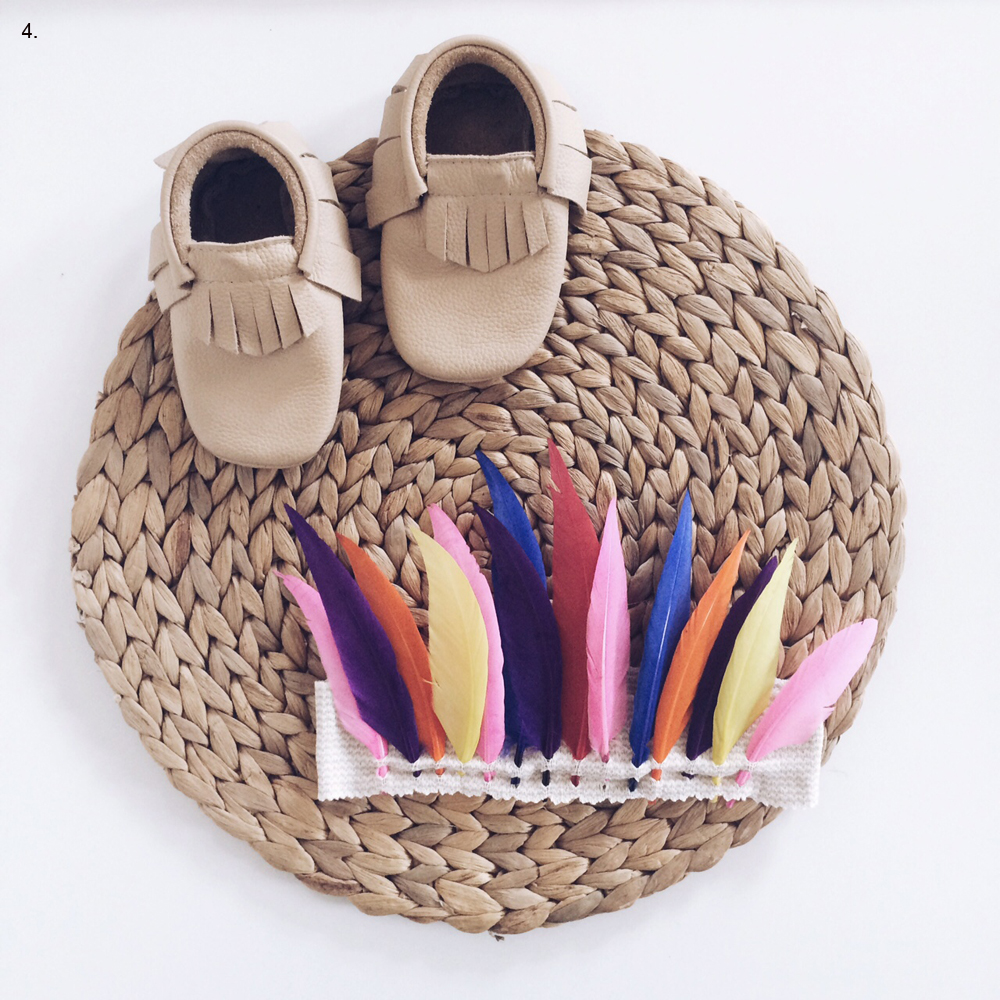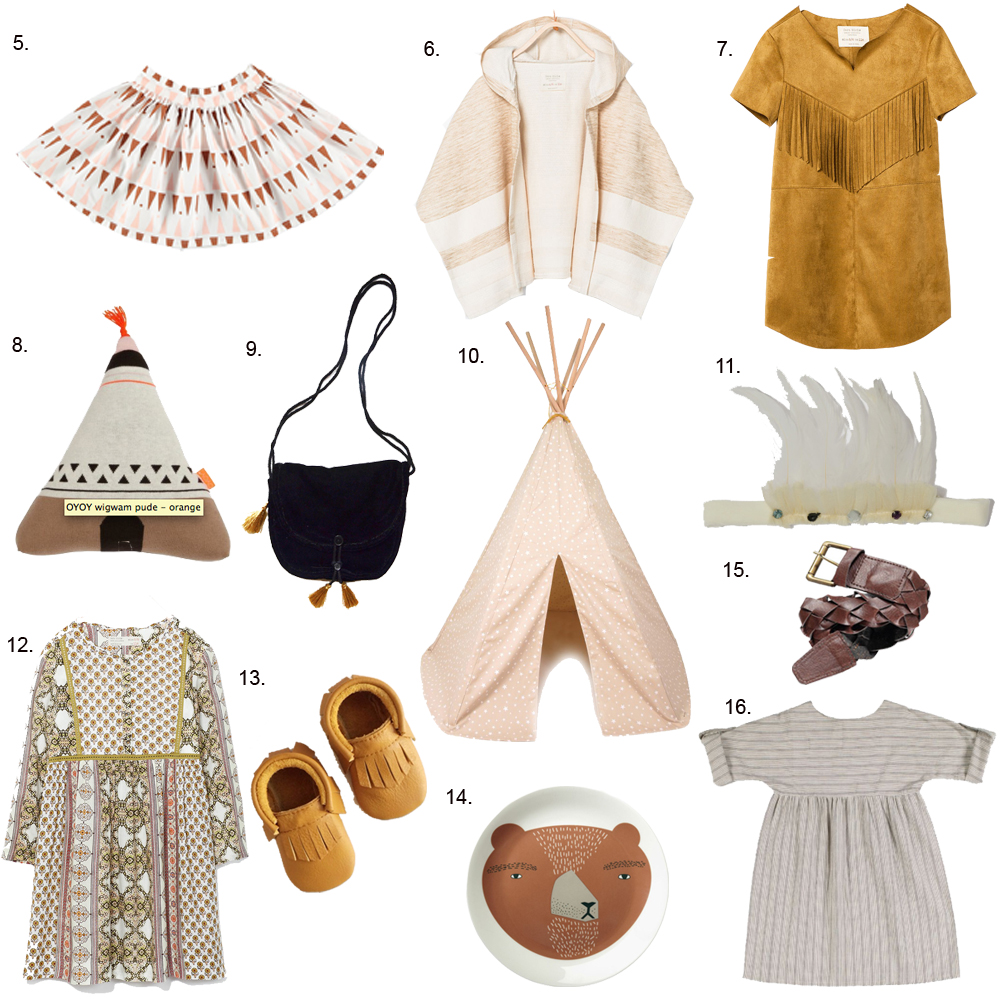 After our Native American theme day the other day (read about it right here),  I couldn't help to notice some of the beautiful kid's  clothes that could easily have been inspired by a Native American theme. I know for sure that my kids would love to play in the cool tipi from the Spanish company Nobodinoz (if you don't all ready know them, go check them out. They do amazing stuff), eat their dinner from the cute bear plate and run around in the beautiful stripy dress from the Danish brand Pierrot La Lune.
1. Bag / Zara 2. Woolf drawing /  Etsy 4. Moccasins / Hubble and Duke 5. Skirt / Nobodinoz 6. Poncho / Zara 7. Fringe dress / Zara 8. Tipi pillow / OyOy 9. Bag / Louis Louise 10. Tipi / Nobodinoz 11. Headband / Frou Frou 12. Dress / Zara 13. Moccasins / Hubble and Duke 14. Plate / Donna Wilson 15. Belt / MarMar Copenhagen 16. Dress / Pierrot La Lune
//
Efter vores Indianer temadag den anden dag ( læse om den lige her ), er jeg konstant stødt ind i de fineste børneting, der let kunne være designet med lidt indianer-inspiration i tankerne. Jeg ved i hverfald at mine børn, ville elske at lege i denne fine tipi fra det spanske mærke Nobodinoz ( hvis du ikke allerede kender dem, så kig forbi deres hjemmeside, de laver de skønneste ting), spise deres aftensmad fra den søde bjørne tallerken og rende rundt i den smukkeste stribede kjole fra danske Pierrot La Lune.
1. Taske / Zara 2. Ulve tegning /  Etsy 4. Mokkasiner / Hubble and Duke 5. Nederdel / Nobodinoz 6. Poncho / Zara 7. Frynsekjole / Zara 8. Tipi pude / OyOy 9. Taske / Louis Louise 10. Tipi / Nobodinoz 11. Hårbånd / Frou Frou 12. Kjole / Zara 13. Mokkasiner / Hubble and Duke 14. Tallerken / Donna Wilson 15. Bælte / MarMar Copenhagen 16. Kjole / Pierrot La Lune